Volunteer with Shower the People SLO
Shower the People SLO is an all-volunteer organization. We have no paid staff. We rely on members of the community from all walks of life who want to be part of the solution.
If you want to volunteer at our mobile shower sites, we need drivers, guest intake greeters, shower-cleaners, and site supervisors. You can choose as many or as few shifts as you would like. Shifts typically last about 3½ hours (longer for the driver who also has to take the trailer to and from the site).
You can also volunteer for some of our off-site, behind-the-scenes positions. You may find the flexible hours of these jobs fit into your schedule better. These positions include tasks like donor outreach, press relations, volunteer coordination, accounting, grant applications, web design, video production, liaison with other organizations and sister shower programs elsewhere, working with vendors and other suppliers of goods & services we rely on, laundering, and keeping the shower trailer/van well-stocked with supplies. If you think you might want to take on one or more of these tasks, we'd love to hear from you.
Diane explains why she volunteers with Shower the People SLO
LEARN MORE
Fill out this form to reach our volunteer coordinator by email.
"Why do you volunteer with Shower the People?"
Tony: "I enjoy giving back to the community I am a part of; I am pretty sure I benefit as much as the clients I serve."
Rick: "I started with showers because I love mechanical things, fixing stuff, and developing systems and procedures (control freak?). But now that I've worked with our volunteers, I'm continually blown away by the kindness and motivation of those folks that dedicate their time to this wonderful endeavor. And the pleasure I get from hearing our appreciative guests thank us for what we do is just the best! I've learned so much in the last few years thanks to everyone at Shower The People."
Rita: "I enjoy volunteering for STP because I've met many new friends who have the same goals of serving others as me. It is my way of extending care to the community by providing a much needed service and it is very gratifying to hear how appreciative the people are for the use of this service."
Dave: "I keep volunteering because it is a useful thing to do, and it is one of the few opportunities to get out in the world during the pandemic."
David: "The teamwork among the volunteers, and the smiles on the faces of those we serve keep me coming back week after week."
Mike: "The teamwork! And, Rick's jokes!
Pam: "It makes me feel good to help others."
Garry: "I like meeting and being with other team members, and, of course, seeing the happy faces of those who exit the showers."
Steve: "I've always believed in public service. I'm retired and was looking for volunteer opportunities. The people who come for showers really appreciate the opportunity to get clean and it makes them feel so much better."

Diane: "My mother raised me to get up every day and do a good deed. Working with Shower the People has warmed my heart."
Gary: "I volunteer because I see the direct impact of a shower—the smile, the grin, or the bounce in their step."
Patty: "Volunteering feeds my soul and Shower the People is an amazing organization that provides a basic human need with kindness and dignity."
Sarah: "I have really appreciated the opportunity to use my gifts to bring much-deserved attention to this incredible program! The people are all amazing and generous souls who want to bring more light and love to our community."
Volunteer Spotlight: Aracelli Astorga
Shower the People's newest Board member, Aracelli Astorga, is Branch Manager of the San Luis Obispo Library and is Coordinating Librarian of SLO County's Coastal Region which includes San Luis Obispo, Los Osos, Morro Bay and Cayucos Libraries.
Aracelli strongly believes in being welcoming and inclusive: in her work, in her service to others, in life. This core principle guides her policies and interactions with clients at the library, and shapes her commitment to those served by Shower the People.
Aracelli learned about Shower the People (STP) in July 2019, and contacted Gwen Watkins, STP's Board President. They shared an interest in creating a new shower site in San Luis and the library, centrally located, seemed ideal. After getting approval from city and county, STP started offering showers at the SLO library later that summer – and has been there ever since. The library is one of STP's busiest locations, showering 17 – 25 guests every Sunday.
Aracelli says she "truly appreciates Shower the People and all they do," and wanted to be a part of their effort to bring hot showers to the unhoused throughout the county. Like her commitment to the library, her goal is to make services available to everyone. She says she is "honored to be on the board," and the feeling is mutual. Aracelli is a hard worker, preferring to work behind the scenes. She brings fresh perspective, energy, and valuable expertise to the Board.
Volunteer Spotlight: Garry Schmidt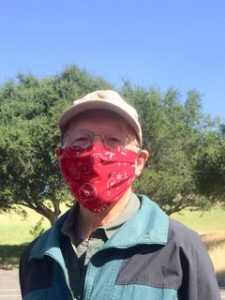 Garry Schmidt is a retired teacher having spent most of his career in the Bakersfield area. He has spent many years teaching in overseas schools that provided education for Christian Missionary children and other expats. He has worked as a teacher in the Congo, Kenya, Philippines, Lithuania, Egypt and Bethlehem, West Bank. Garry is married to a teacher who has been his partner in all things including these overseas endeavors.
Garry learned about Shower the People after hearing Claire Grether, STP Volunteer Coordinator, speak at a small men's group at his church. He has met many wonderful people who worked at Shower the People who have introduced him to other volunteer opportunities with the homeless population, such as Safe Parking, Warming Center and People's Kitchen. He said, "Shower the People has been a big doorway for me."
Garry stated, "Being around the homeless citizens of our community and with those who help provide showers has given me a new understanding of the needs that exist for those without permanent housing."
Garry has been working weekly as a shower cleaner since 2019. He has been able to witness the transformative power of a shower for those in need. He said when there is a need, "You've Got a Friend in Me."
Thank you, Garry, for your work on behalf of those we serve
Volunteer Spotlight: Sue Andersen
Sue Andersen, our newly appointed STP Board member, is the President and CEO of Marian Regional Medical Center in Santa Maria, and Arroyo Grande Community Hospital. She was appointed in July, 2018, and prior to that was a Service Area Chief Financial Officer for Dignity Health and Hospital CFO for Marian, French and hospitals in Southern California. She and her husband Steve live in Nipomo with their two grown children and their dog Max. They have lived on the Central Coast for the past 27 years.
Sue said, "The mission of our hospitals is to serve our communities and Shower the People fits right in with that. I was introduced to Gwen Watkins by a mutual friend who thought that I could be of help. At that time, STP was struggling to raise funds and didn't have the shower unit yet.
It is so amazing to me to see the progress made in the last year and how far the organization has now gone with everyone's help. Our hospitals are proud to be a small part of this through donations and helping with the towels."
STP is pleased to have Sue join our Board of Directors. We look forward to working together to achieve our organizational goals. This collaboration is an important bridge to better the health and welfare of the guests we serve.
Volunteer Spotlight: Rick Grether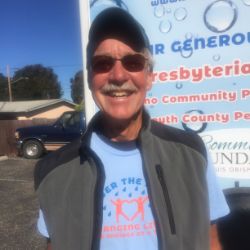 Rick Grether brings knowledge and experience to his position of Operations Manager for Shower the People. He was instrumental in the spec and design of the Mobile Shower Unit.
Having worked as a driver for Showers of Hope, SLO, and studying the trailer design for Showers of Blessing, Santa Barbara, Rick said he had a pretty good idea of what was needed for our Shower the People mobile unit. He said, "It is huge that we have the three showers with working toilets and sinks." Rick spends his time managing, doing servicing and maintenance and training others in the use of the shower unit.
Rick was born and raised just east of Stockton, California in 1946 and attended Linden High School, graduating in 1964. That summer he obtained a Private Pilot's license, and continued building flight licenses from then on, including Instructor Ratings, which he used during his college years.
He started college at San Diego State in 1964, but his education was interrupted by the Vietnam War. Assuming he'd be drafted, he enlisted for a six year commitment with the National Guard, thus avoided a tour of duty over seas.
Graduating from San Diego State in 1970, he then partnered with another pilot friend starting Spirit of Palo Alto Aviation, a flight school and air charter service in the San Francisco Bay area. In 1979 he was hired as a pilot by United Airlines and worked there until retiring (age 60 required) in 2006. The following year, 2007, he was hired by Boeing as a B777 and B787 flight instructor, retiring again in 2015.
He and his wife Claire were married in 1976 and raised 4 children in San Luis Obispo, being involved in all the usual child activities; baseball, soccer, 4H, church mission trips, etc.
In September of 2017 he was introduced to Becky Jorgensen of Showers of Hope, who needed a driver with a large truck that could pull her mobile showers trailer. That lasted until February of 2018 when he met Gwen Watkins who wanted to start Shower The People. The rest is history.
Rick is very positive about his volunteer work for Shower the People, He said, "I see expansion in the future which may eventually mean the need for another trailer."
Volunteer Spotlight: David Gross
David Gross grew up in San Luis Obispo and is a proud SLOcal. "I get a kick out of working together with people in our community to make this an even better place, and Shower the People is a great way to do that," he says.
In addition to Shower the People, he also volunteers with Restorative Partners, helping them to conduct their in-custody meditation program at the County Jail, and with GleanSLO, by collecting produce for the SLO Food Bank from generous vendors at the downtown SLO Farmers Market.
All of those programs had to go into hibernation when Covid-19 erupted. "All my volunteer opportunities dried up in about a week's time," he says. "I was chomping at the bit to get back. Shower the People was the first to open back up, with new safety protocols that reassured me we were doing things right."
"Volunteering at a program like Shower the People is, to me, an important form of 'direct action'! Maybe it doesn't look much like activism, but it's people organizing voluntarily to help each other, which is my idea of what politics should be all about."
David has been working with Shower the People since 2019, having brought over his experiences from helping to get the similar "Showers of Hope" project off the ground before that. "The part I like the best is seeing the smiles on the faces of our guests when they step out first thing after their shower."