Our First 10k!

The 451 showers we gave in June, 2022 put us over the top and now Shower the People SLO has successfully given more than 10,000 showers to our homeless neighbors. Can you help us get to 20,000?
April Showers, an Amazing May, Zooming through June

Shower the People SLO gave 388 showers in April, 446 showers in May, and 451 showers in June, 2022, at our three sites. Our guests included 113 first-timers who had never showered with us before.
Helping People and Pets Alike

Marianne Bollinger of the Central Coast Partnership for Animal Welfare is at the UU Church parking lot even before the Shower the People trailer arrives. She brings a free hot breakfast for the early risers to eat while they wait for us to set up the trailer. Marianne also keeps the self-serve Little Free Pantry at the UU site well-stocked with pet food, and helps homeless people arrange veterinary care for their pets.
A Big March

Shower the People SLO gave 424 showers in March, 2022 at our three sites. Our showerers included 14 first-timers who had never showered with us before. We gave away 328 pairs of socks, 266 pairs of boxer shorts, and 274 T-shirts.
Navigation

Nurse Navigator Allison Brandum, from the SLO County Public Health Department, comes to our shower sites in San Luis Obispo and Grover Beach regularly to help our guests get their health needs met.
A Thank You Card from a Guest

"I just wanted to say thank you for all of your donations especially the shower. Some people just stop by for a lunch, wipes, t-shirt, etc. and skip showering. But, you always manage to provide the need. Many thanks! Your volunteers are such wonderful people. Always glad to help in any way they can. Kind, patient & caring. I am definitely one person changed (one shower at a time). God bless you all for thinking of us."
A Showerful Year

Shower the People SLO gave more than 3,000 showers to people in our community in 2021. That made 2021 our biggest year so far. Thank you to the volunteers, donors, and other supporters who have made this possible, and to our guests who keep coming back and recommending our service to their friends.
Rain or Shine

Our guests know they can rely on us to be there even when the weather's soggy. After all, that's when a warm shower and dry socks feel the best.
New Charging Station

Our new electric charging station has been a hit. Guests appreciate the opportunity to charge up their phones and other devices while they shower or wait for a shower.
Shower The People Is an Information Hub

Shower The People has produced a series of resource information cards about free and low-cost food, clothing, and shelter resources in SLO and the Five Cities. We make these cards available at our greeter station to help our guests become more aware of how to meet basic needs.
Suds for the Holidays

On December 3rd, 2021, the Shower the People trailer, covered in lights and emerging from a cloud of bubbles, participated in the 45th Downtown SLO Holiday Parade!
(Human)Kindness

HumanKind Fair Trade in San Luis Obispo donated 10% from on-line and in-store sales on November 1, 2021 to Shower The People SLO.
Shower the People at the Vets Stand Down

For the third consecutive year, Shower The People SLO offered free showers at the Santa Barbara County Veterans Stand Down, which was held on October 16, 2021 this year.
Volunteer Party

For our Volunteer Party all who could attend spent a sunny afternoon hobnobbing with each other, eating great food, with great music from Change of Plans, and exceptional dogs.
Over 5,000 Showers Given!
In January of 2021 Shower the People hit the benchmark of giving 5,000 showers to the homeless in our community. This year we will continue to provide showers at our four current sites and hope to expand to an additional site in the near future. Stay tuned!
Operations Coordinator Update
by Rick
As we start seeing light at the en
d of the COVID tunnel, we continue to still be COVID vigilant. We use the same highly effective shower sprays, wear masks and hazmat suits, and maintain social distances. Since our restart in June with the new protocols we have experienced no difficulties. Our systems must be working! We are also seeing more interested volunteers, probably because vaccinations are becoming more widespread and people are feeling safer. We will have a returning driver now that he's had the jabs!
Our trailer and van continue to operate flawlessly with some credit going to Rich Trailers, the manufacturer, who has sent us many maintenance parts for free! We appreciate them as well as Arroyo Grande Chevrolet who does our routine van maintenance at a reduced rate. Our equipment is splendid!
Volunteer Coordinator Update
by Claire
Since November of 2020 we have welcomed several dedicated and kind volunteers to our work crew operating our Shower the People sites. Join me in appreciating: Steve Brown and Mike VanBelleghem, drivers; Dave Bernhardt, cleaner; and Pam Garcia, Judy Staley and Pamela Werth, intake volunteers.
We have also had a steady crew of veteran volunteers and our guests are always grateful. When it is deemed safe for us all to gather in person, we look forward to a volunteer appreciation event.  Any questions, drop me a line and I will respond. Many thanks! showerthepeopleslo@gmail.com
Sharing Our "Shower the People" Story
by David
"HelpSLO" is a Facebook group that, since the early days of the Covid epidemic, has been a forum for people to coordinate grassroots people-helping-people projects in San Luis Obispo County (https://www.facebook.com/groups/helpslo/). When I saw Rebecca Juretic's fantastic video highlighting Shower the People's work at the SLO City Library, I shared it with the HelpSLO group.I was delighted at the positive responses (107 "likes," 15 comments).
"This is so important," said one commenter. "Imagine having no access to a real shower. Especially needed with the pandemic and the increase in homelessness we are experiencing."
Another wrote: "What a needed service! How uplifting it must be to get clean and get some basic essentials. Kudos to those who help bring this about!"
December 2020 — Here's to Our Volunteers!
"It's part of life, physically or psychologically, to help another human." In my opinion our STP volunteers are all about that.
Shower the People is an all-volunteer organization, and our December Newsletter is a tribute to everyone on our wonderful team.
STP shut down our shower program in March of 2020 due to the onset of COVID19 in our county. Closing was not an easy decision for us; we had gotten to know and care for many of our homeless guests and knew they would be particularly vulnerable to the virus. It was with a heavy heart that we closed.
In May the County gave STP the go-ahead to restart our program, and we wasted no time in preparing to reopen.
We redesigned our shower program from scratch, using the best health protocols, PPE, disinfectants and site layout in order to prevent our volunteers and guests from contracting and spreading the virus. In June, those of our volunteers who were able to, signed up and once more started volunteering at our sites.
Below I'd like to introduce to you our site team members and their responses to the question, "Why do you volunteer with Shower the People?"
Rick
"I started with showers because I love mechanical things, fixing stuff and developing systems and procedures (control freak?). But now that I've worked with our volunteers, I'm continually blown away by the kindness and motivation of those folks that dedicate their time to this wonderful endeavor. And, the pleasure I get from hearing our appreciative guests thank us for what we do, is just the best! I've learned so much in the last few years thanks to everyone at Shower The People."
Tony
"I enjoy giving back to the community I am apart of; I am pretty sure I benefit as much as the clients I serve."
Rita
"I enjoy volunteering for STP because I've met many new friends who have the same goals of serving others as me. It is my way of extending care to the community by providing a much needed service and it is very gratifying to hear how appreciative the people are for the use of this service."
Dave B.
"I keep volunteering because it is a useful thing to do, and it is one of the few opportunities to get out in the world during the pandemic."
Dave G.
"The teamwork among the volunteers, and the smiles on the faces of those we serve keep me coming back week after week."
Mike
"The teamwork! And, Rick's jokes!
Pam
"It makes me feel good to help others"
Garry
"I like meeting and being with other team members, and, of course, seeing the happy faces of those who exit the showers."
Gary
"I volunteer because I see the direct impact of a shower – the smile, the grin, or the bounce in their step."
Patty
"Volunteering feeds my soul and Shower the People is an amazing organization that provides a basic human need with kindness and dignity."
Sarah
"I have really appreciated the opportunity to use my gifts to bring much-deserved attention to this incredible program! The people are all amazing and generous souls who want to bring more light and love to our community."
---
Note From Our Volunteer Coordinator Claire
November has been a busy month at the showers. I want to thank the dedicated volunteers who carry out the tasks that keep our showers open. We are especially grateful to those who are working during the pandemic. I appreciate the protocols that keep us mindful of safe health practices.
This month we welcomed several new volunteers: Gina, Pamela, Kathryn and trainees Pam and Cindy. I am so grateful for their enthusiasm! Thanks for the training provided by Gary and Dory and Rick. What a team!
We always welcome new volunteers. Think about mentioning our program to your friends and neighbors!
Shower Stats
January through November of 2020 STP has provided 1,627 showers to the homeless in our communities. We handed out 1,037 pairs of new boxers, 1,323 pairs of new socks, and 255 new T-shirts the latest addition to our giveaways.
*Due to the onset of COVID19 our program was closed from mid-March to June.
September/October 2020 News and Updates
The number of folks showering with us has shot up during this COVID epidemic. All of our three current sites have seen an increasing number of guests since we restarted our shower program in June. Below are some of our shower totals June through August.
Unitarian Universalist Church — 184 showers — (June through August)
SLO Library — 105 showers — (July and August)
Oceano — 50 showers — (August)
All of our cleaners wear full PPE, while guests and volunteers wear a mask and observe social distancing.
We've added some products that we believe are important for our guests during this epidemic: our intake volunteers hand out 2oz bottles of hand sanitizer and a package of biodegradable outdoor wipes as well as a mask to our guests. This week we've also started offering white T-shirts to those guests in need of one.
All of the events we had planned for 2020 — the parades, the Veteran's Stand Down — have been canceled. We continue to give talks by Zoom to local clubs and organizations. We are still supported and encouraged by our local churches, the Community Foundation, Arroyo Grande Community Hospital and the United Way.
The volunteers who are working at our sites have done incredible work. The cleaners have it down to a science, intake is welcoming and terrific at crowd control, we've welcomed new drivers, and our site supervisor is back from foot surgery. We have so much to be proud and grateful for!
We fully recognize that not everyone is able to help at the showers during this time and we look forward to the time when we can all be back together again.
We're Heading Back to Peoples Kitchen!
Starting Thursday, October 8th, STP will once more be providing showers at People's Kitchen!
We are very excited to restart our shower operations at our very first shower site, 946 Rockaway Ave, Grover Beach, the home of South County People's Kitchen. STP will schedule our shower operations there every Thursday from 11:00 a.m. to 1:00 p.m.
The Board Welcomes New Member Rick Grether
If you know Rick Grether, two things are abundantly apparent: his love for his family and his commitment to serve his community. For many years, Rick has served as a Boy Scout leader, a soccer and baseball coach, a 4-H mentor, a Sierra Service Project leader, and a guitar-playing music leader at his church. Rick now serves as head of Operations for Shower the People. His first task was to help design and order our new shower trailer. Then, in September 2018, he flew to Topeka, Indiana to inspect the unit before it was shipped to California. Since delivery, Rick has made dozens of upgrades and modifications to the trailer: installed an inverter, added handles, hooks, shower rods and soap dispensers to make it safer and more user friendly, installed an awning to provide shade. Rick also drives the shower trailer, gets it ready for guests, and then helps clean the shower stalls after each use!
Rick is quick, though, to give kudos to the other volunteers he works with, and says he has learned so much working with them, especially now, having to take extra precautions dealing with Covid-19. He really enjoys doing the work, but says that what motivates him is providing hot showers to our unhoused guests. He says, "They are so appreciative of something most of us take for granted." Rick always greets guests with "Good to see you!" and a smile. One of Rick's great qualities is his sense of humor, and spending time with him just seems to brighten your day!
Rick grew up in Stockton, California, attending Linden High School. He then went on to graduate from San Diego State and, during that time, joined the California National Guard. Then Rick became a pilot and had a career that spanned forty years, flying for Hewlett-Packard Aviation, Boeing, and twenty-eight years flying around the world with United Airlines.
Rick's wife, Claire, is the Volunteer Coordinator for Shower the People; they have four children and three grandchildren (two of them pictured above with Rick). Rick loves to spend time with his family and is frustrated by not being able to be with them due to Covid-19. Fortunately, he is planning a camping trip with some of his family in the near future.
In his spare time, Rick plays guitar and sings in a band. He was in Boomerang Band for twelve years and for the past year and a half has been in a trio, "Change of Plans." Lately, they've been relegated to literally playing in a garage!
Rick continues to be a mainstay for Shower the People, and believes that the strength of the organization is the dedication of its volunteers and its all-volunteer program. With supporters like Rick, STP will continue to grow and to provide a necessary, human service to our community.
Masks Required! Restarting our Showers
With heartfelt regret Shower the People temporarily suspended shower service on March 12 due to the County's order to self-isolate at home because of the imminent threat to our community from the COVID 19 virus.
Tuesday June 2nd was our reopening day! We are back to giving showers again!
On May 15 the County gave us the OK to restart our shower program and a team of STP volunteers pulled together and started to meet almost daily. They gathered the best information they could find on what needed to be changed and what materials were needed to restart our program. The number one goal for the team was to rework our operations so STP could assure the health and safety of our volunteers and our shower guests in this time of COVID 19.
By May 23rd the revised policies and procedures, the changes to the site lay out, the gathering of all the PPE was looking good on paper and was ready for testing.  20 of our STP volunteers attended two days of training, one group at the Unitarian Universalist Church (UU) parking lot in San Luis and one group the following day at St Barnabas parking lot in Arroyo Grande. A lot was learned from from both trainings, changes were discussed and made and the first copy of our new procedures was laminated!
Our operations team has begun planning for restarting our program at all of our other sites.  Each site will have its own look, but all of our sites will still be the welcoming, friendly, organized shower sites that they always have been.  More news to come!
Shower the People SLO COVID-19 Protocols
Volunteer Aaron Navarro put together this video for us, discussing some of the changes we have made to keep our clients and volunteers safe.
Volunteer Spotlight: Garry Schmidt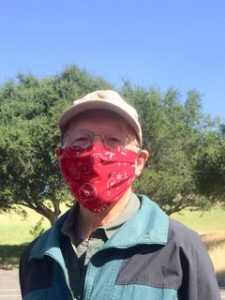 Garry Schmidt is a retired teacher having spent most of his career in the Bakersfield area. He has spent many years teaching in overseas schools that provided education for Christian Missionary children and other expats. He has worked as a teacher in the Congo, Kenya, Philippines, Lithuania, Egypt and Bethlehem, West Bank. Garry is married to a teacher who has been his partner in all things including these overseas endeavors.
Garry learned about Shower the People after hearing Claire Grether, STP Volunteer Coordinator, speak at a small men's group at his church. He has met many wonderful people who worked at Shower the People who have introduced him to other volunteer opportunities with the homeless population, such as Safe Parking, Warming Center and People's Kitchen. He said, "Shower the People has been a big doorway for me."
Garry stated, "Being around the homeless citizens of our community and with those who help provide showers has given me a new understanding of the needs that exist for those without permanent housing."
Garry has been working weekly as a shower cleaner since 2019. He has been able to witness the transformative power of a shower for those in need. He said when there is a need, "You've Got a Friend in Me."
Thank you, Garry, for your work on behalf of those we serve.
Shower the People wants to thank the Arroyo Grande Community Hospital for their generous help with our PPE and their assistance as we formed best practices to prevent infection by the COVID 19 virus.
Shower the People would not have been able to restart our shower program without the generous donation from the Community Foundation's Disaster Support Fund. Their support was timely and needed at this time economic uncertainty.