Masks Required! Restarting our Showers
With heartfelt regret Shower the People temporarily suspended shower service on March 12 due to the County's order to self-isolate at home because of the imminent threat to our community from the COVID 19 virus.
Tuesday June 2nd was our reopening day! We are back to giving showers again!
On May 15 the County gave us the OK to restart our shower program and a team of STP volunteers pulled together and started to meet almost daily. They gathered the best information they could find on what needed to be changed and what materials were needed to restart our program. The number one goal for the team was to rework our operations so STP could assure the health and safety of our volunteers and our shower guests in this time of COVID 19.
By May 23rd the revised policies and procedures, the changes to the site lay out, the gathering of all the PPE was looking good on paper and was ready for testing.  20 of our STP volunteers attended two days of training, one group at the Unitarian Universalist Church (UU) parking lot in San Luis and one group the following day at St Barnabas parking lot in Arroyo Grande. A lot was learned from from both trainings, changes were discussed and made and the first copy of our new procedures was laminated!
Our operations team has begun planning for restarting our program at all of our other sites.  Each site will have its own look, but all of our sites will still be the welcoming, friendly, organized shower sites that they always have been.  More news to come!
Shower the People SLO COVID-19 Protocols
Volunteer Aaron Navarro put together this video for us, discussing some of the changes we have made to keep our clients and volunteers safe.
Volunteer Spotlight: Garry Schmidt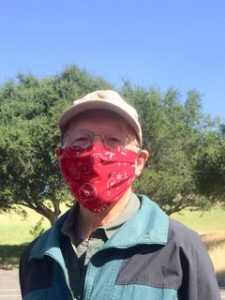 Garry Schmidt is a retired teacher having spent most of his career in the Bakersfield area. He has spent many years teaching in overseas schools that provided education for Christian Missionary children and other expats. He has worked as a teacher in the Congo, Kenya, Philippines, Lithuania, Egypt and Bethlehem, West Bank. Garry is married to a teacher who has been his partner in all things including these overseas endeavors.
Garry learned about Shower the People after hearing Claire Grether, STP Volunteer Coordinator, speak at a small men's group at his church. He has met many wonderful people who worked at Shower the People who have introduced him to other volunteer opportunities with the homeless population, such as Safe Parking, Warming Center and People's Kitchen. He said, "Shower the People has been a big doorway for me."
Garry stated, "Being around the homeless citizens of our community and with those who help provide showers has given me a new understanding of the needs that exist for those without permanent housing."
Garry has been working weekly as a shower cleaner since 2019. He has been able to witness the transformative power of a shower for those in need. He said when there is a need, "You've Got a Friend in Me."
Thank you, Garry, for your work on behalf of those we serve.
Shower the People wants to thank the Arroyo Grande Community Hospital for their generous help with our PPE and their assistance as we formed best practices to prevent infection by the COVID 19 virus.
Shower the People would not have been able to restart our shower program without the generous donation from the Community Foundation's Disaster Support Fund. Their support was timely and needed at this time economic uncertainty.