We are in need of donations in order to maintain and expand our shower operations. We currently provide shower service to our homeless community 2 days a week. In addition to a hot shower and bio-degradable soap our guests are given a new pair of socks, new underwear, tooth brush, toothpaste and a comb.
In 2019 we will continue our successful shower service in Grover Beach. Additionally we will start expanding our shower program, bringing our mobile showers to additional sites where they are most needed.
We plan to provide shower service to our houseless community two days a week at South County People's Kitchen at LifePoint Church in Grover Beach. We expect to expand to several locations in north and south county.
Donations to Shower the People are tax deductible under our non-profit a 501(C)3 – Tax ID #82-1552557.
VOLUNTEER WITH US
Shower the People is a San Luis Obispo, California based mobile hygiene ministry which offers showers to those of a critically low income. Contact us to be a volunteer.
Why is this ministry needed?
Humans at a base level need some amenities to feel like valuable people after a time. One of those needs is to be clean. At Shower the People our goal is to provide a warm shower. In doing this we are hopeful of helping them gain the stability to get employment and housing.
DONATE ESSENTIALS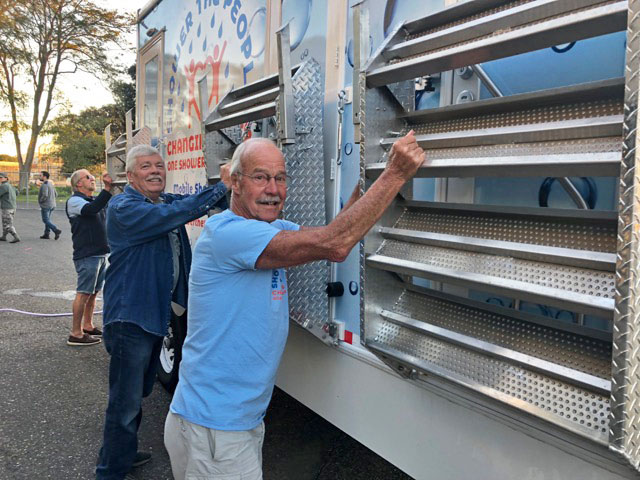 Shower the People is in need of donations of new undergarments and new socks of all sizes, for our guests to put on fresh after their shower.  We also need basic toiletries; combs, razors, toothbrushes, small toothpastes.  We do not accept individual soaps and shampoos.  Our showers are able to provide biodegradable soap and shampoo for all of the guests through monies donated by you.  Thank you for your support!
How is my Donation Used?
Your donations to Shower the People allow us to keep our mobile unit mechanically and sanitarily maintained. We clean our units with disinfectant after every shower and we also deep clean our unit on a regular schedule.  Your donations help supply us with disinfectant, gloves, masks and cleaning equipment.
Your donations are used to supply each shower unit with soap/shampoo, toilet paper, clean towels and washcloths.   Thank you for your support!