Donations help us maintain and expand our shower operations. We provide shower service to our homeless neighbors several days a week. In addition to a hot shower and bio-degradable soap our guests are given a new pair of socks, a new T-shirt, new underwear, a toothbrush, toothpaste, and a comb.
We currently operate in San Luis Obispo and Grover Beach. We hope to continue expanding our mobile showers to additional sites where they are most needed.
Donations to Shower the People are tax deductible under our non-profit a 501(c)3 — Tax ID #82-1552557.
VOLUNTEER WITH US
Why is this program needed?
All people have a basic need to be clean. Shower the People provides a warm shower. We hope this helps people gain the stability and confidence to help them get employment and housing.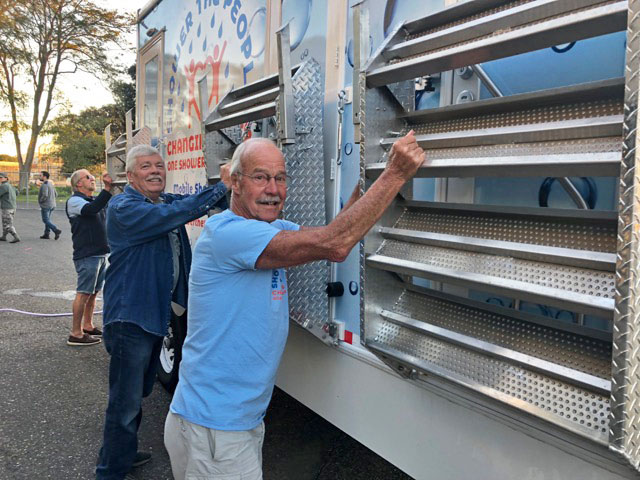 How are my donations spent?
Our showers are able to provide biodegradable soap and shampoo, toothpaste and toothbrushes, combs, socks, T-shirts, and underwear for all of the guests thanks to money donated by you. Thank you for your support!
Your donations to Shower the People also allow us to keep our mobile unit mechanically and sanitarily maintained. We clean our units with disinfectant after every shower and we also deep clean our unit on a regular schedule. Your donations help supply us with disinfectant, gloves, masks, and cleaning equipment.
Your donations also supply each shower unit with soap/shampoo, toilet paper, clean towels, and washcloths. Thank you for your support!